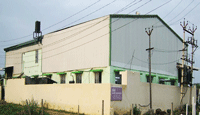 Crown Technologies is established to provide the required surface treatment to sheet metal parts to protect from corrosion and to give aesthetics.
Crown Technologies is located at Irungattukottai, the growth hub of Automotive and Engineering Industries.
Crown Technologies is started by professionals to show a difference in the Job Coating Industry.
Crown Technologies is committed to provide the right quality Surface Treatment Solutions at the right time to customers.
We will establish and adhere to the process and controls required to meet the customer requirements.
Our people will be trained continually to improve the effectiveness of the Quality Management system.
We are committed to customer satisfaction:

By engaging closely with customer to understand their requirement

Follow the right process with controls to fulfill the requirements
Ensure on-time delivery
Assure prompt responses
Meet all statutory & Regulatory Requirement
Ethical and responsible conduct of business